Environmental Benefits Of Dundrum Building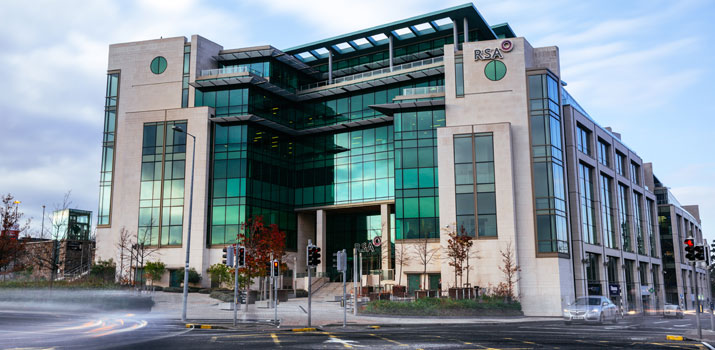 In Ireland, the environment is rapidly moving up the political and social agenda. Its important we show our customers, brokers and suppliers that we are committed to being an environmentally responsible company.
Our Dundrum Headquarters have been designed to help reduce our CO2 emissions by up to 30% compared to a normal office building.
What are some of the specific design principles incorporated into the RSA office location at Dundrum?
The building is within walking distance of the Luas line and Bus networks and is well catered for in terms of bicycle lanes. We provide specific Cycle park areas for Employees use.
The RSA office building at Dundrum adds to the diversity of building types in the area, being adjacent to both retail and residential buildings, ensuring the overall development's sustainability in the long term.
The layout of the office floors has been arranged to ensure maximum natural daylight for all users, reducing the reliance on artificial lighting as much as possible. Shading is fixed to the exterior of the building, preventing glare and internal heat gain, therefore reducing the amount of energy required to maintain an optimum internal temperature.
The use of presence detectors and daylight sensors to control the general lighting reduces associated energy consumption by 20%. The use of "chilled beams" for cooling instead of traditional Fan coil units increases operational efficiency of the air conditioning system. Low usage water fittings are used to reduce water consumption. The resultant overall reduction in Co2 emissions amounts to 30% when compared with a normal new 3rd generation office building. The office building at Dundrum has a target "excellent" rating for energy consumption as set out by BREEAM standard for new offices. (BREEAM is an environmental assessment methodology developed by BRE (Building Research Establishment) in the UK. It sets a benchmark for environmental performance)
The office development at Dundrum incorporates an area for a Sedum Roof within the overall design. A sedum roof is like a living carpet. Sedums are low-growing succulents - plants with thick fleshy leaves and stems. The benefit of this roof design includes rainwater absorption, reduced heat loss, removal of carbon dioxide and absorption of pollutants from the air.
The Fitout of the office at Dundrum and the procurement of RSA fixtures and fittings included a checklist to consider the environmental impact associated with the type/source of products used.
We develop and enhance the recycling of office waste generated at Dundrum and avail of the synergy that will was incorporated into the overall waste strategy for a major retail operation.